Example Of How Much Money A Member Can Save



We would like to take this opportunity to give you an example of just how much money a member can save using the benefits included in their membership during a 12 month period.

The following illustrates an example of the amount of money that a typical member can save utilizing the provided benefits. Actual savings will vary by member and is based upon the actual use of included benefits.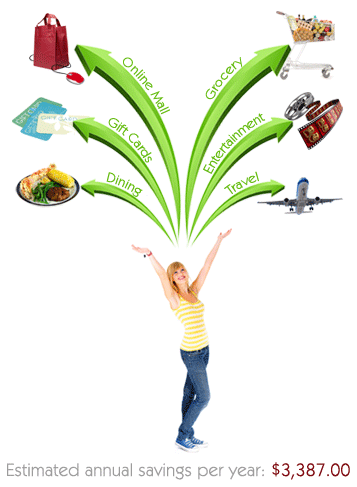 | | |
| --- | --- |
| Benefit | Estimated Annual Savings |
| Automotive | $25 |
| Candy | $25 |
| Car Rentals | $45 |
| Cash Back Virtual Mall | $105 |
| Cellular Phone Savings | $65 |
| Concerts & Sporting Events | $70 |
| Dining | $385 |
| Family Legal Network | $125 |
| Flowers | $42 |
| Fragrances | $42 |
| Games, Comics and Toys | $75 |
| Gift Shopping | $216 |
| Golf | $35 |
| Groceries | $205 |
| Halloween Costumes | $68 |
| Home Furnishings | $78 |
| Home Security | $95 |
| Macy's | $45 |
| Magazines | $25 |
| Major Merchant Gift Cards | $240 |
| Movie Tickets | $80 |
| Prescription Medications | $180 |
| Recreation | $109 |
| Roadside Assistance | $75 |
| Special Vendor Discounts & Offers | $120 |
| Software | $50 |
| Sports Collectibles | $65 |
| Theme Parks & Attractions | $215 |
| Travel & Vacations | $408 |
| Vitamins | $74 |
(Total $ Savings will vary by member)


$3,387.00